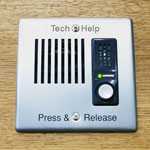 For immediate assistance in the classroom:
Use the live intercom on a Teaching Station or Teaching Dock or call the Tech2U emergency hotline:
416 - 978 - 0423
Tech2U focuses on meeting your technology needs, regardless of your classroom assignment with an option to have additional equipment delivered and set up before the class. More importantly, Tech2U provides in-room technology support from a team of Technical Co-pilots and Student Classroom Ambassadors. The Tech2U team will provide you with consistent and ongoing support during every class throughout the term. We are excited to continue the Tech2U initiative and discover the ways it can support you, your teaching and importantly your students.
Tech2U provides and supports A/V equipment for 'centrally booked' classrooms (the rooms you can book on this site). If your classroom is not an 'LSM' room, A/V is likely handled by your local department. LSM and non-LSM can be located in the same building (even next to one another).
For LSM rooms:
Academic Bookings: There is no cost
Non-academic bookings: A/V* is extra cost
* This includes the Teaching Station, Teaching Dock, and any ceiling-mounted digital projector. Always specify all your A/V needs at time of booking. Academic bookings likely require a course code.
A/V requests for equipment or technician services require 6 working days advance notice. For example, for a Friday booking, have your request in by the previous Thursday.