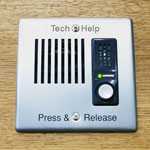 For immediate assistance in the classroom:
Use the live intercom on a Teaching Station or TSJr or call the A/V emergency hotline:
416 - 978 - 0423
LSM provides and supports A/V equipment for 'centrally booked' classrooms (the rooms you can book on this site). If your classroom is not an 'LSM' room, A/V is likely handled by your local department. LSM and non-LSM can be located in the same building (even next to one another).
For LSM rooms:
Academic Bookings: A/V* is included in room cost
Non-academic bookings: A/V* is extra cost
* This includes the Teaching Station, TSJr, and any ceiling-mounted digital projector. Always specify all your A/V needs at time of booking. Academic bookings likely require a course code.
A/V requests for equipment or technician services require 6 working days advance notice. For example, for a Friday booking, have your request in by the previous Thursday.